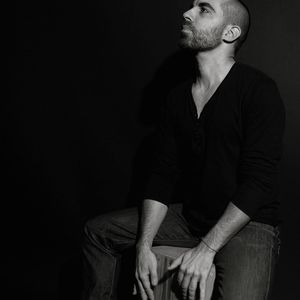 Biography
 Jorge Perez, Spanish born in Boston, U.S.A. is a performer, producer, composer, teacher and one of those atypical drummers/percussionists that are also the leaders and composers of their bands.
He goes to school at the Raimundo Lulio School, in Vallecas, Madrid, where he will meet his long life friends Alvaro and Eduardo.
Self-taught during his youth, he later studies music at the Escuela de Musica Creativa and architecture at the Escuela Politécnica of Madrid. 
During his teenage years Jorge, together with his brother Javier, spends most of his energy into track and field running, taking part in hundreds of competitions, and achieving several national and international awards. This experience determined how Jorge will understand his musical personal training and discipline in the future.
In 2008 he gets a scholarship form Berklee College of Music where is selected to be part of the elite group "Berklee Global Jazz Institute", in which he studies with Danilo Perez, John Patitucci and Joe Lovano. He graduates in 2011 obtaining a mayor in Performance, and returns to Spain where he starts Patax, band with which we has released 8 albums up to date, blending flamenco, salsa, Funk, Rock, jazz and folk music 
Jorge is the leader, composer, arranger and percussionists of the band Patax (www.patax.es), with which he has recorded 9 albums and Toured around the world.
He has given Masterclasses in USA, Panama, Peru, Costa Rica, Great Britain, Germany, Mexico, China, Spain and Cuba, and has performed with Patax all around the world. 
In 2019 Jorge releases his cajon method, called Global Cajon ( www.globalcajon.com)
Jorge has worked with Jerry Gonzalez, Alain Pérez, Erwin Schrott, Chenoa, Christian Galvez, Jesus Molina, Jorge Pardo and Shakira among others. 
Jorge has a very strong presence in social networks, where only in youtube his channel has got more than 24 million views.  
Jorge is signed with Carbono Instruments percussions, Meinl cymbals, Mapex drums, Remo heads, Hardcase and Wincent sticks.
BANK ACCOUNT: IBAN: ES19 0049 3129 5323 9492 3958
Paypal: perezgonzalezj@yahoo.es